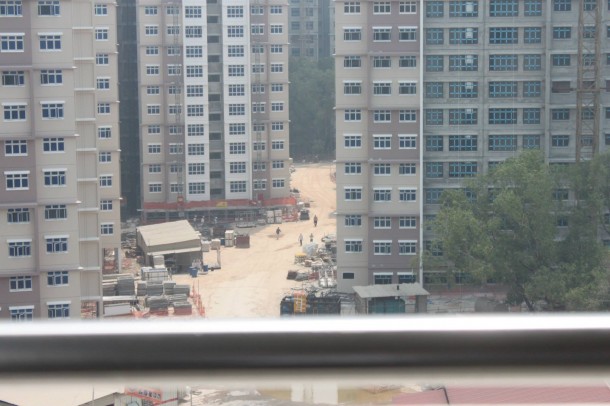 Photo: Ng Yi Shu
Our taxi zips down the PIE. The driver, a jolly Malay man, laughs as he gestures towards his windscreen. "This year, I tell my children, what for go Genting for holiday? We have Genting here! Very hot Genting!"
It is 11am. The PSI reading is 322. I have the beginnings of a bad headache. The taxi driver sighs, "Only god can help us now."
Singaporeans have been told there's very little anyone can do about the haze. Since Monday, our little island has been shrouded in thick fumes caused by fires raging in forests and plantations in neighboring Indonesia. The relevant Minister from our side has personally delivered a letter to the relevant Minister on their side. We've expressed grave concern about the situation. We've offered to help. But apparently, we can only wait for rain. On Friday, the PSI hit an eye-popping 401. "What comes after hazardous?" A friend asked on Facebook. "Death," someone replied.
Humour it seems, is our last line of defense. Humour and angry emo posts on blogs and Facebook. This is perhaps understandable. We've been told to stay home and avoid strenuous physical activity. Singaporeans are turning stir crazy and getting passive-aggressive. And who can blame them?
But there's a group of people for whom the option to just take it easy indoors, is not available. Construction workers continue to labour through ever higher PSI readings. Despite calls from several quarters, the Ministry of Manpower has not issued a stop-work order. It seems unlikely it will be doing so any time soon. MOM it appears, is relying on employers to do the right thing by their workers – which brings me back to why I'm in a taxi, on the PIE. I'm with a friend, on our way to meet some volunteers. We're distributing drinks to construction workers today. More importantly, we hope to find out how they are coping in this weather.
*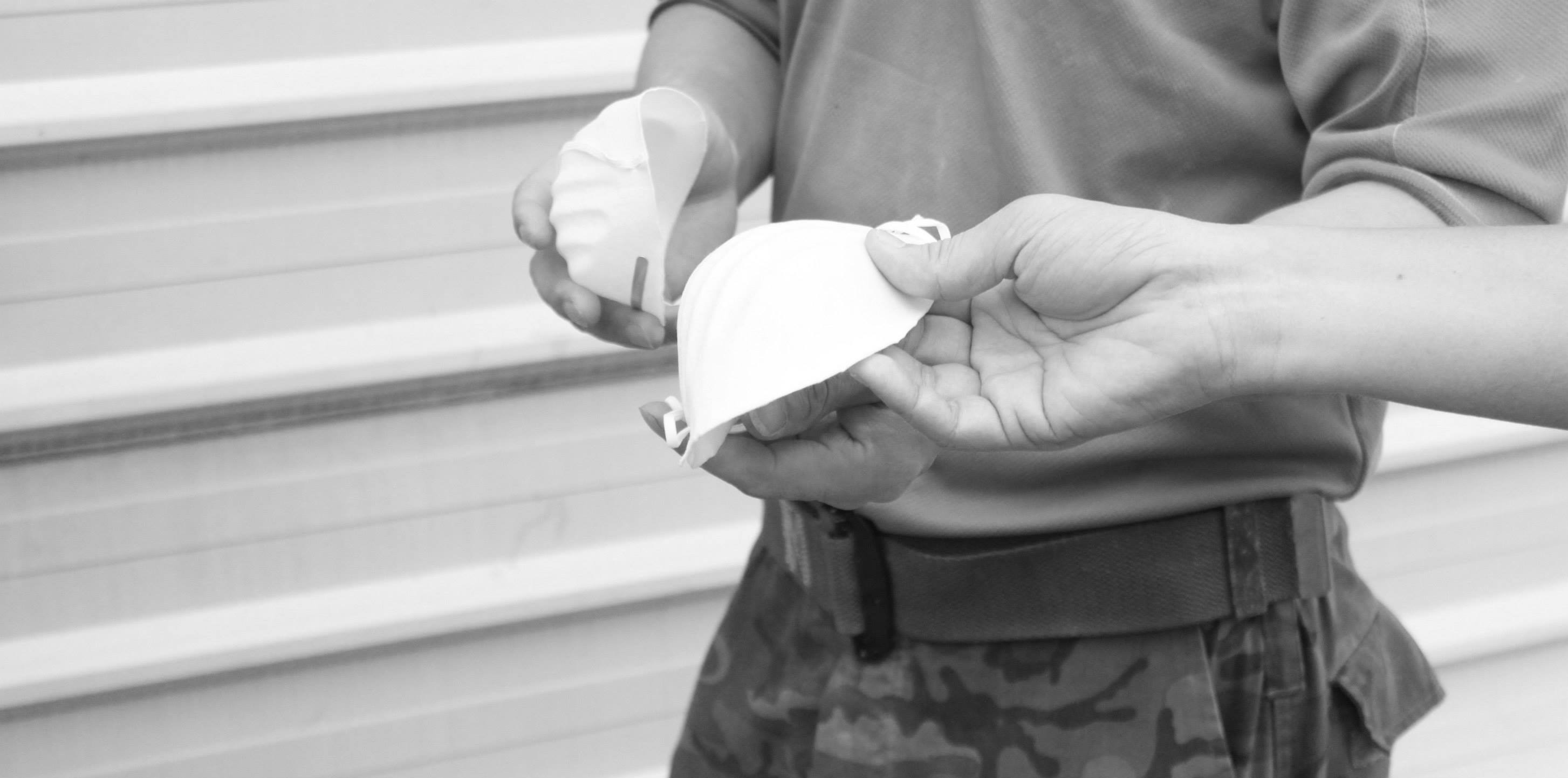 Photo: Ng Yi Shu
Our first stop is a massive HDB construction site in Yishun. It's clear as we approach, that there's plenty going on inside. We meet F, a migrant worker from China. He tells us he's been in Singapore for four years now. It's the first time he's seen pollution this bad. We ask if his company has any plans to stop work because of the haze. F shakes his head.
"I'm sure it's fine," he says.
"If we don't work, we don't get paid," his colleague D, chimes in.
They tell us it's been really hot and many people have sore throats. They say they've been issued masks. We ask to see them – they're not the right kind. We try to explain that their masks won't do much to keep out fine particles. The workers shrug. They seem to think things aren't so bad. We ask if anyone from their company is keeping track of weather conditions.
"I think it was around 200 yesterday?" F says.
"401," we reply.
I ask if they've seen worse pollution in China. The two men stay silent for a long while. One of them laughs. They don't answer my question.
Before we leave, we pass them cartons of isotonic drinks and bags of throat lozenges. "Share them with your colleagues," we say.
They thank us profusely. We tell them we hope the haze clears soon.
*
There is a hint of sunshine and blue skies as we arrive at our second stop in Geylang. The PSI reading is down, but a volunteer reminds all of us that the PM 2.5 level remains very high. It's still not safe to be outdoors.
We meet Mr Zhou, a construction worker from China. He's been in Singapore 7 years. Like F, he tells us he's never seen pollution this bad before.
"Our lips are cracking and my throat is dry."
Zhou and his colleagues have just been issued masks. They are proper N95 ones. We ask if anyone has shown them the right way to wear the masks. He shakes his head.
We ask if there's air-conditioning at his dormitory.
Zhou laughs, "No. This is our dormitory."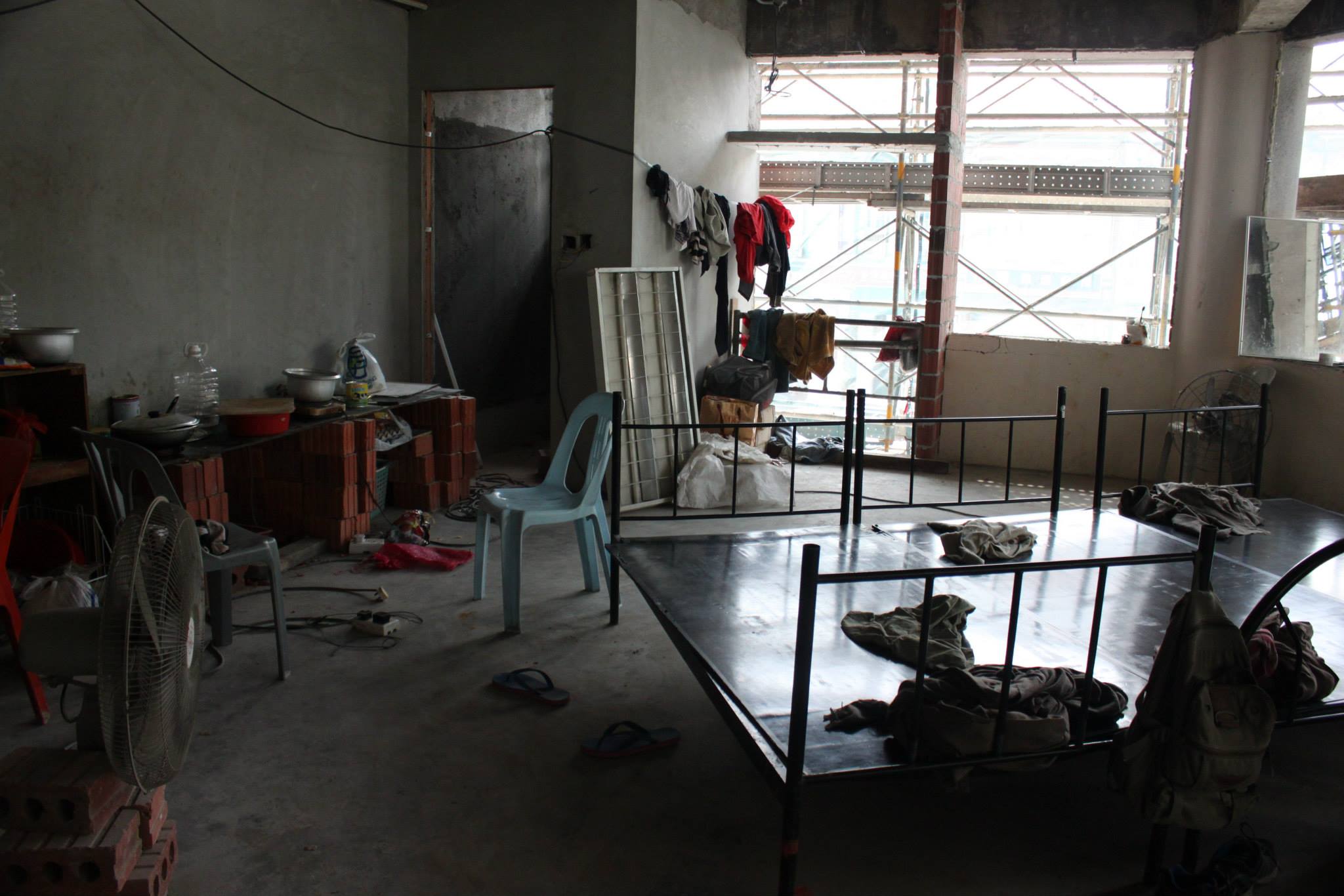 Photo: Ng Yi Shu
He takes us on a tour. The hot, dusty worksite is also home to some 20 workers. For Zhou and his colleagues, there's no respite from the haze. No respite from anything. The men sleep here at night – next to bags of cement and machinery and random bits of scaffolding. There's a thin layer of dust everywhere. Zhou says their bunks are infested with bugs. Cockroaches and rats are a fact of life. There's just one toilet.
"At night and in the morning, we have to line up."
No wonder they don't see the haze as a big problem. There are other things to worry about.
As we leave, Zhou thanks us for the drinks and offers to buy us all tea.
"No, it's okay," we tell him. "Please, it's okay. Please, just take care of your health."
*
When Singapore's Prime Minister Lee Hsien Loong launched the National Workplace Safety and Health Campaign last month, he proudly proclaimed:
"We take occupational safety and health very seriously… it is not just statistics; it is human beings and suffering we are talking about. Every injury means pain and suffering for a worker. Every death means a family broken, deprived of a breadwinner, a loved one. And every case that happens is on our conscience, if we have not done our best to minimise the risks, and to ensure the safety of the workers."
Migrant workers might not know what they risk by working in conditions deemed too hazardous for the rest of us, but surely our government does. This crisis is a chance for PM Lee to lead by example and show us he means every word he says. He has yet to do so. But it is still not too late.